2019 Sun Mountain 3.5 LS Stand/Carry Bag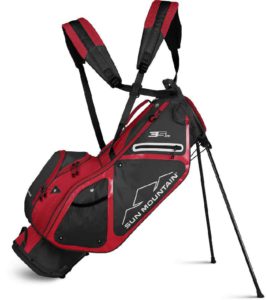 Setting Things Straight
Sun Mountain has optimized the level of features and technology that they can offer at a given weight.  Now, when buying a bag, a golfer knows the weight of the bag by its name.  And, they know that as they look at the 2.5 vs 3.5 vs 4.5 vs 5.5 the extent of features increases as the numbers go up.  Congrats to Sun Mountain for clarifying their product line.
While we prefer the 4.5 LS (reviewed  here) the Sun Mountain 3.5 LS has a ton of features at its weight.
Weight
The weight of the Sun Mountain 3.5 LS Stand Bag is 3.5 pounds including straps.
This weight is one of the lightest high-quality bags that we review.  As mentioned in our Buyer's Guide there is a trade off between weight and features.  Generally, within a product line, the lower the weight the fewer the options. Continue reading Sun Mountain 3.5 LS Stand/Carry Bag Review →