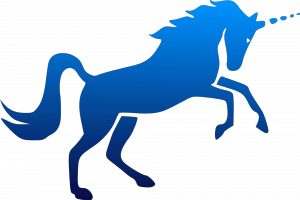 In Part 1 of this blog we made the claim that high-quality, single strap golf stand bags were as rare as a blue unicorn. We searched extensively throughout the electronic golf marketplace and discovered that although not quite as rare as the mythical beast, there truly were not many options. It appears that many manufacturers have moved away from single strap models or only offer the option in full-featured caddie and/or staff bags. After looking at about a dozen bags, we did find two options that we liked.
Our Top Choice Single Strap Golf Stand Bag:
The Callaway 2015 Hyper-Lite 4 Stand Bag-Single Strap
The Callaway 2015 Hyper-Lite 4 Stand Bag-Single Strap model is our clear favorite. It matches the closest to our preferred features as described in Part 1 of this blog. The specs on the Hyper-Lite are as follows: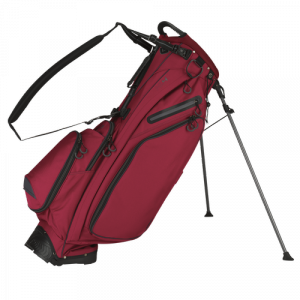 Golf Carry Bag Weight: Although we could not find a precise weight on the single-strap model we were able to find a weight on the dual strap bag which weighed 5.5 lbs. We conclude that the single strap model would be of similar or lesser weight.
Getting Clubs In and Out of the Bag: The bag has a 9", 5-way opening with full length dividers which is within our preferred specs.
Ease of Carrying the Bag: The single-strap system has an ergonomic EVA foam core and soft mesh padding.
Storage/Pockets:  The Hyper-Lite 4 comes with 9 pockets including a full length apparel pocket, 2 thermal lined bottle pockets, a velour-lined valuables pocket, 4 accessory pockets and a ball pocket.
Stability of the Bag: The stand mechanism meets our expectations. The bag bottom pivots to remain more flush to the ground when the legs are extended. The base is also designed to better fit in golf carts.
Extras: At the time of writing, the color combinations are limited to two – cardinal and green.
Value: The bag has an MSRP of $189.99. We believe that this is a top quality bag for those interested in a single strap carrying option.
Our 2nd Choice Single Strap Golf Stand Bag:
The Titleist Single Strap Carry Bag
The Titleist Single Strap Carry Bag is another solid choice for those seeking the single strap option. There are obvious strengths and limitations with this bag.
Pros: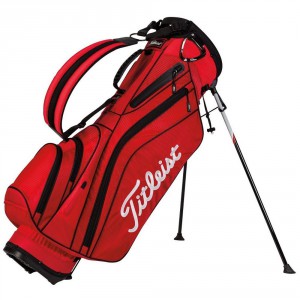 The bag weighs 4.9 lbs

It has a well-designed stand mechanism

It is available in five color options

MSRP is $160
Cons:
The model only comes with a 3 opening top which limits a golfer's ability to keep clubs organized and untangled

The bag only has 5 pockets which limits storage capacity and specialization
For golfers preferring a no frills bag with a great name and a great price, the Titleist Single Strap Caddie Bag might be the perfect choice.
Buy a Top Rated Single Strap Golf Stand Bag, Today!