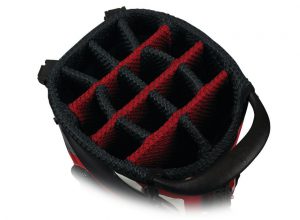 We love walking the course carrying our clubs because of the freedom of being able to pick up and go. But some aspects of carrying can sometimes be a hassle. For instance, there is nothing more annoying than when your clubs get disorganized or completely tangled within the bag. When the grips are intertwined,  you can't easily get the clubs in or out. Not fun!  14-way golf carry bags are an answer to stop the tangled mess.
We have identified our top recommendation for a 2018 14-way golf stand bag. Anyone who purchases it will love it.
In doing this review, we researched over a dozen 14-way carry bags before narrowing it down to our top three models:
We believe that all three models are great 14-way golf stand bags, but based on features, weight and value our favorite is the Callaway 2018 Fusion Stand Bag.
This carry bag review follows our standard pattern; evaluating key features in comparison to our Buyer's Guide. We have modified some of our preferences based on the focus on 14- way stand bags.
Callaway 2018 Fusion 14 Way Golf Stand Bag Specification and Review
This January I had the pleasure of stopping buy the huge Callaway showroom at the PGA Merchandise Show and had a great discussion on how the Fusion 14 has been enhanced for 2018.  This review has been fully updated to reflect the changes.
Weight
The weight of the Fusion Stand bag is 5.7 lbs which is on the light side for 14-way carry bags. Some top 14-way carry bags weigh over 7.5 lbs which we believe is too heavy for an 18 hole carry.
This weight is within our preferred range of 4 – 6 lbs for a carry bag.
Getting Clubs In and Out of the Bag
As expected the bag has 14 openings for your clubs. Unlike some 14-way tops the Fusion Stand Bag offers full length dividers separating each club. The top is 10" and comes with a redesigned handle introduced in the 2016 model year.
The full length dividers are a big plus keeping the club grips separated. Multiple club openings are large enough for a putter with an over-sized grip.  
Ease of Carrying the Bag
The Fusion 14 features the X-Act Fit Strap System that is designed so that the straps easily slide across each other so that the bag self-balances for greater comfort.  Callaway has also added increased padding and width to the straps.  The straps are easily removable for using the bag on a cart.
The shoulder straps meet are expectations in terms of comfort.  
Storage/Pockets
The 2018 Fusion 14 Stand Bag now boasts 12 pockets, with a greater level of innovation and specificity.  These include:
Magnetic closure, easy access valuables pocket
Individual cell phone sleeve
Magnetic closure Range Finder pocket
Insulated water bottle pocket
Water resistant, velour-lined valuables pocket with key fob

Specifically designed Bluetooth Speaker Pocket, for the JLab Audio Crasher Mini

And additional more standard pockets for apparel and accessories
In terms of other attachment points, the bag has a unique alignment rod holder, a towel loop and an integrated umbrella sleeve.
The pockets take specialization to its highest level.  The level of specialization, including the speaker pocket, full umbrella sleeve and integrated alignment rod holder, seems highly appropriate for the golfer who wants a bag that has 14 fully divided club openings.
Stability of the Bag
The stand mechanism and bottom have been redesigned for 2018.  They are well constructed and offer solid stability.
The stability features of the bag meet our expectations. 
Extras
The Callaway 2018 Fusion Stand Bag has:
Full length dividers for each club
Seven color combinations
Unique alignment rod holder, towel loop with bottle opener and integrated umbrella sleeve

We've never seen a pocket quite so specialized as the specifically designed Bluetooth Speaker Pocket, for the JLab Audio Crasher Mini.  Other Bluetooth speakers could also be accomodated
Value
Callaway's suggested retail price is $229.99.
The Callaway 2018 Fusion Stand Bag is our favorite based on its comparatively low weight, the full length dividers, great organization in terms of pockets and its unique extras that add a nice touch.
Buy Our Highest Recommended 14-Way Golf Stand Bag, Today!