Sun Mountain 2.5 LS Stand/Carry Bag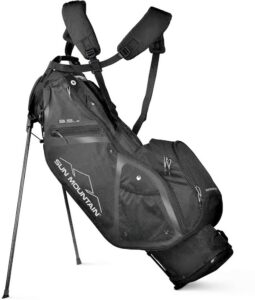 The answer to "Which Left-Handed Golf Stand Bag Should I Buy?" is quite simple. There is only one option, and Sun Mountain makes it.
It has been estimated that about 10% of the population is left-handed. It has also been estimated that over 24 million individuals golfed last year in the US. If both statistics are accurate, there are probably over 2 million left-handed golfers in the US.
Two million golfers seem like a fairly decent sized market. And yet, Sun Mountain is the only major brand that makes a left-handed golf stand bag. 
Sun Mountain offers the 3.5 LS Stand/Carry Bag in a left-handed configuration. In making a left-handed golf stand bag, Sun Mountain did their typical terrific job and did it right. Essentially, the bag has all of the same features as the right-handed 3.5 LS model, with the exception that the bag is built with a real left-handed orientation. Continue reading Which Left-Handed Golf Stand Bag Should You Buy? →