Sun Mountain 2.5 LS Stand/Carry Bag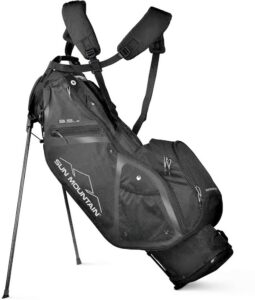 The answer to "Which Left-Handed Golf Stand Bag Should I Buy?" is quite simple. There is only one option, and Sun Mountain makes it.
It has been estimated that about 10% of the population is left-handed. It has also been estimated that over 24 million individuals golfed last year in the US. If both statistics are accurate, there are probably over 2 million left-handed golfers in the US.
Two million golfers seem like a fairly decent sized market. And yet, Sun Mountain is the only major brand that makes a left-handed golf stand bag. 
Sun Mountain offers the 3.5 LS Stand/Carry Bag in a left-handed configuration. In making a left-handed golf stand bag, Sun Mountain did their typical terrific job and did it right. Essentially, the bag has all of the same features as the right-handed 3.5 LS model, with the exception that the bag is built with a real left-handed orientation.
The bag's strap system is configured so that the top of the bag is oriented to the left side of the body
The side pockets and hip pads are flipped in terms of side to best accommodate a left-handed golfer
The only limitation to the left-handed model is that it only comes in one color combination – black. This lack of color options goes back as long as I can remember.
Sun Mountain 3.5 LS Stand/Carry Bag Specifications and Features:
Sun Mountain does a great job of balancing the relatively light weight of the 3.5 LS Stand bag with an exceptional array of full-service features.
Weight:  As its name indicates, the Sun Mountain 3.5 LS Stand Bag weighs 3.5 pounds, which is mid-range for the Sun Mountain line-up.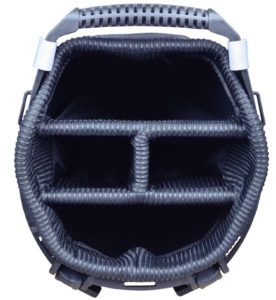 Top:  The 3.5 LS comes with a padded, four-way top with full-length dividers and a diameter of 9-inches. The combination of the 9-inch top and four dividers works well in that the minimal number of top dividers leave plenty of room for a standard 14 club set.
Ease of Carry:
The bag has Sun Mountain's X Strap System with high-density foam. The straps are designed to be wider at the shoulder for greater comfort. 
The Strap System also features a center strap guide through which the two straps pass. This guide enables the two straps to adjust and shift the balance of the bag as the golfer walks  
The 3.5 LS has an "Air-Flow" cushioned hip pad for added comfort while walking the course
Lastly, in terms of ease of carry, the bag has an integrated top handle, spine handle, and bottom loop for easy lifting options
Pockets and Attachment Points:  The Sun Mountain 3.5 LS Stand Bag has seven pockets and multiple attachment points including:
Full-length apparel pocket
A velour-lined and water-resistant valuables pocket
Range finder pocket
Beverage pouch positioned for easy access
An umbrella holder, pen holder, glove holder, tee holders, and towel ring
Leg System:  The Sun Mountain 3.5 LS features a top-mounted, patented, bottom release mechanism with high-strength, lightweight carbon fiber legs.
Value:  Sun Mountain's suggested retail price for the 2020 model is $239.99. This MSRP is the same for both left-handed and right-handed models.
Conclusion
It is too bad that the golf industry hasn't made more of an effort in catering to the left-handed golfer in terms of carry/stand bags. I guess, many left-handed golfers suck it up and play with a righty bag—just one more accommodation to a right-handed world.
But, at least, Sun Mountain has stepped in over the years to fill the left-handed golf stand bag void. In general, we love the 3.5 LS Stand Bag, left-handed or right, and would highly recommend it to any golfer looking for a full-featured, relatively lightweight stand bag. Enjoy.
One note about buying the left-handed version of the 3.5 LS on Amazon: The left-handed stand bag is displayed as one option among many right-handed 3.5 LS color options. Be careful in selecting the left-handed model out of the array of options.