OGIO Cirrus Stand Bag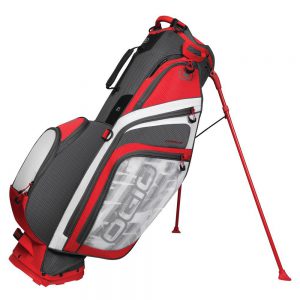 The OGIO Cirrus Stand Bag is our favorite OGIO carry bag.  Over the last two years the  OGIO Cirrus Stand Bag has become OGIO's front running lightweight, full feature carry bag.  The bag keeps OGIO's high standards of quality while asserting a more athletic and modern look and features.
Weight
The weight of the OGIO Cirrus Stand Bag is 5 pounds including the strap system.
This weight places the Cirrus Bag in the lighter end  of our preferred range.
Getting Clubs In and Out of the Bag
The OGIO Cirrus Stand Bag has a roundish 9", seven-way opening with horizontal full
length dividers. The opening has a dedicated putter "pit" for larger grips.
The opening for this bag is within our preferred size. We appreciate the dedicated putter pit for over-sized grips.
Ease of Carrying the Bag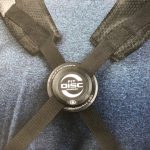 The Cirrus has the new Fit Disc Four Point Strap System which joins the two shoulder straps  in a manner that allows each to move independently.  The connecting disc allows each strap to automatically adjust  to better distribute the weight of the bag.  For greater comfort, the Cirrus has a padded and molded hip panel to more comfortably fit t a golfer's body.
The bag has top rim, spine and bottom handles for easy lifting options.
OGIO continues to innovate on their strap carry systems.  The Fit Disc Four Point Strap System lends itself to a very comfortable carry. 
Storage/Pockets 
The OGIO Cirrus Stand Bag has 7 pockets (6 zippered) including:
Large, near full length apparel pocket
Weather resistant fleece lined valuables pocket with cell phone sleeve
Walking accessible insulated water bottle holster
Scorecard/rangefinder/GPS sleeve
In terms of other attachment points, the bag has  a Velcro glove zone and towel loop.
The bag has our preferred number of pockets with ample storage and specialization.
Stability of the Bag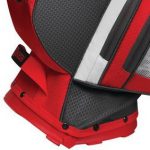 OGIO Stand Bags have historically received consistently positive reviews for their sturdiness and stability. The Cirrus is no exception.  While having a slightly more vertical posture than some stand bags, the Cirrus has a well constructed leg extension system that is internal to the bag.  The bottom of the bag has a pivoting base that serves as the leg release mechanism and allows more solid contact with the turf.  In addition, the feet of the legs are substantial and resist sinking into the ground.
The stability features and performance of the bag is in line with our expectations.
Extras
The OGIO Cirrus Stand Bag has:
OGIO's long history of making high quality golf bags
Includes rain hood
Features that make the bag more cart friendly such as the contoured bottom designed for easier fit into a golf cart
Four color combinations which are brighter and more modern than past OGIO bags
Value
OGIO's suggested retail price is $209.99.
The $209.99 is a very fair MSRP price for a bag with the quality standards of OGIO.