2019 Sun Mountain 3.5 LS Stand/Carry Bag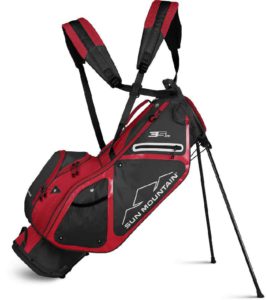 Setting Things Straight
Sun Mountain has optimized the level of features and technology that they can offer at a given weight.  Now, when buying a bag, a golfer knows the weight of the bag by its name.  And, they know that as they look at the 2.5 vs 3.5 vs 4.5 vs 5.5 the extent of features increases as the numbers go up.  Congrats to Sun Mountain for clarifying their product line.
While we prefer the 4.5 LS (reviewed  here) the Sun Mountain 3.5 LS has a ton of features at its weight.
Weight
The weight of the Sun Mountain 3.5 LS Stand Bag is 3.5 pounds including straps.
This weight is one of the lightest high-quality bags that we review.  As mentioned in our Buyer's Guide there is a trade off between weight and features.  Generally, within a product line, the lower the weight the fewer the options.
Getting Clubs In and Out of the Bag

The Sun Mountain 3.5 LS Bag has a four-way top with full length dividers and a diameter of 9" which was expanded in 2019 to increase ease of getting clubs in and out of the bag.
The opening of the bag is appropriate for the weight and size of this bag. The top design easily accommodates putters with over-sized grips.
Ease of Carrying the Bag
The bag has the X Strap System with high-density foam designed to be wider at the shoulder for greater comfort.  The Strap System also features a strap guide to enable the two straps to easily interact with each other.   The 3.5 LS also has an "Air-Flow" cushioned hip pad. The bag has an integrated top handle, spine handle and bottom loop for easy lifting options.
Given the ultralight weight of the bag,  this bag is easy to carry for 18 holes.
Storage/Pockets 
The Sun Mountain 3.5 LS Bag has 7 pockets including:
Full length apparel pocket
A velour-lined and water resistant valuables pocket
Beverage pouch positioned for easy access
Multiple accessory pockets
In terms of other attachment points, the bag has a pen holder and towel loop.
The bag has our preferred number of pockets with ample storage and specialization.
Stability of the Bag
The Sun Mountain 3.5 LS features a top mounted, patented roller bottom leg mechanism with high-strength carbon fiber legs.
The bag offers the leg mechanism features of a high quality, stable stand bag.
Extras
The Sun Mountain 3.5 LS Bag has:
A matching rainhood
Nine color options
A comparatively compact profile
Value
Sun Mountain's suggested retail price is $234.99.
The $234.99 MSRP price tag is relatively high.  For the money you will get a high quality stand bag, with a great array of features,  at a very low weight.  
Click Here to Buy the Sun Mountain 3.5 LS Now at Amazon!