We at Best Golf Carry Bags believe that there is only one true way to play and enjoy golf. You have to walk the course. We know we can be a little overly zealous about this but, there are real benefits to walking the course and carrying your stand bag.
Walking a golf course is great exercise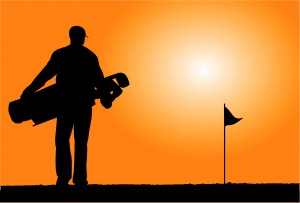 Some people question whether golf takes any real exertion. Studies have proven that playing a full round of golf in a mortorized cart will burn over 900 calories! Not bad. And, according to Neil Wolkodoff, a director of the Center for Health and Sport Science at the Rose Medical Center in Denver, walking a course will burn over 1400 calories for 18 holes of play. So if you want to burn some calories and get some great exercise, pick up the bag and hit the links.
Using a golf carry bag saves you money
Face it.  Golf is not the least expensive sport. By using a golf carry or stand bag you can save $20 – $30 every round by not utilizing a golf cart. That savings leaves a little bit of cash in your pocket for the 19th hole or to replace the Pro V1s.
Carrying your golf bag gives you ultimate freedom
There is just something about picking up the bag and moving instantly with ease to anywhere you need to go that adds to the enjoyment of the game. You aren't tethered to concrete cart paths. You don't have to worry about 90 degree driving rules or whether you set the brakes. You just pick up the bag and walk. And with today's lightweight bag technology and ergonomically designed straps the walk couldn't be more comfortable and easy!
Given the benefits, the question isn't whether you should use a carry bag. The question is: Which carry bag should you buy?  We are here to help you with that decision.  See our reviews of the 2018 Best Golf Carry Bags!