Titleist Ultra Lightweight Stand Bag
Product Update
Titleist discontinued the Ultra Lightweight Stand Bag when it completely updated its line of of stand bags with the Players 4 Series.  A few remaining color combinations of the Ultra Lightweight are still available .  All are "single strap" versions of the bag.
We have recently reviewed the full line of Titleist stand bags and the Player 4 stands out as our top pick having a great balance between weight, features and price.  Click here to check out our review of the Player 4 Stand Bag.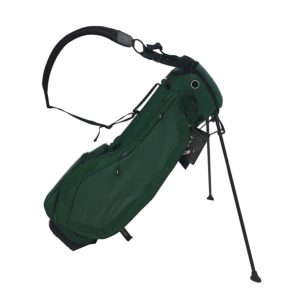 Original (lightly edited) Ultra Lightweight Review
If you can find one, the Titleist Ultra Lightweight Stand Bag is still a solid choice for folks looking for a simple, no frills bag.
Weight
The weight of the Titleist Ultra Lightweight Stand Bag is 4.9 pounds not including the shoulder straps and rainhood.
This weight, which includes the shoulder straps, puts the Ultra Lightweight bag as one of the lightest among our recommended models.
Editor's note: Back in 2017 when this review was written this bag would have been considered fairly light.  In 2020, we would consider it middle of the pack.  Our current favorite Titleist stand bag the Player 4 comes in at 3.8 pounds and they have one other stand bag in their line up that comes in even lighter — the Titleist Player 4 Carbon.
Continue reading Titleist Ultra Lightweight Stand Bag Review →