The Best Golf Carry Bags website (BGCB) has one purpose: We aim to simplify your

golf carry bag selection process so you can buy with confidence.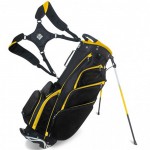 Buying a golf carry bag can be overwhelming. There are so many manufacturers, models and features, it may be hard to choose. At BGCB we make the decision process easy. We have completed a comprehensive review of the top manufacturers and the best golf carry bag models. We have simplified the buying process into a three step roadmap to help golfers make the perfect selection.
Step 1: Read the in depth 2018 Best Golf Carry Bags Buyer's Guide:
The Buyer's Guide will help golfers to understand the most important features offered in the best golf carry bags as well as BGCB's best guidance on what to consider. Click here for our 2018 Carry Bag Buyer's Guide
Step 2: Check out the Comparative Grid
Our Comparative Grid offers a side by side view of the most critical features of our recommended 2018 golf carry bags. Review the Grid and narrow your choices to two or three models. Click here for our 2018 Carry Bag Comparative Grid
Step 3: Read the detailed and objective Reviews
Read our detailed reviews and make your decision from our highest recommended models! Click here for our 2018 Carry Bag Review Directory
Or take a quick look below for a summary of BGCB's top rated carry bags!

Click Image for
Amazon Price
The JCR DL550s Stand Bag is the 2018 updated version of the original DL550. The DL550s has maintained its durable construction while upgrading its hip padding for greater comfort. Another upgrade is the use of better padding of the top rim/dividers. The DL550s offers an ideal 9.5" x 8.5' top with 6 openings and full length dividers for each sections. The bag has a four point, center hub strap system which does a good job of balancing the load. The bag boasts nine pockets which are well organized and thought through. The JCR DL550s comes in eleven color combinations. MSRP is $180. Read full review here.

Click Image for
Amazon price
OGIO Cirrus Stand Bag has bragging rights to OGIO's Fit Disc Four Point Strap System for automatic and independent balance and load adjustment. Seven pockets add convenient storage including: a weather-resistant, fleece-lined valuables pocket, an insulated water bottle holster and a large, near full length apparel pocket. The 9-inch, 7 opening top, with full-length dividers, organizes your clubs including a dedicated putter pit for oversized grips. The base of the bag hides the internal leg release mechanism allowing for a cleaner look and better contact with the ground or with a cart if you choose to use one. MSRP is $210. Read full review here.

Click image for
Amazon price
The Ping Hoofer is the company's flagship stand carry bag. For 2018 the Hoofer keeps 12 pockets and enhances its shoulder strap technology for better load balancing. The Hoofer also features a cart-strap channel that keeps pockets accessible while using a motorized or pull cart. In addition, Ping has cleverly attached an easily deployable rainhood snapped inside the cushioned hip pad. MSRP is $220. Read full review here.

Click image for
Amazon price
The Sun Mountain 4.5 LS is a great addition to Sun Mountain's most popular stand bags. It is also one of the lightest of our preferred bags. The 4.5 LS features a 4 opening flared top, the E-Z Fit Dual Strap System and eight pockets including: two velour lined valuables pockets, one of which is water resistant, a full-length clothing pocket and beverage pouch. Cart-friendly features include a leg-lock system and cart-friendly bottom. The Sun Mountain 4.5 LS has ten color options to match any golfer's taste. MSRP is $209. Read full review here.

Click image for
Amazon price
The TaylorMade FlexTech Carry Stand Bag was introduced in 2017 featuring a new, patented flex bottom and leg mechanism for greater stability. In addition the FlexTech has an improved shoulder strap configuration for greater comfort carrying the bag on the course. The bag comes with a 5-way (9.75" x 8.5") top and 11 total pockets including: water resistant, micro-suede lined valuables pocket, full length garment pocket, internal cooler pocket and an external water bottle pocket. MSRP is $210. Read full review here.

Click Image for
Amazon price
The Titleist Ultra Lightweight Stand Bag has all the features of a larger stand bag design in a more streamlined approach. The Ultra Lightweight offers a 9" x 8' top with 3 sections and two full dividers. The bag has easily adjustable double straps for easy carrying and six pockets including: a full length apparel pocket, a velour lined valuables pocket and an insulated beverage pocket. Titleist Ultra Lightweight Stand bag comes in ten color combinations. MSRP is $160. Read full review here.
If you have any doubts about whether you should purchase a carry bag versus a cart bag we offer a couple thoughts. First, the carry bags that we recommend tend to be motorized and pull cart friendly so if you purchase one of our recommended models you will always have the option of easily throwing it on a cart. The opposite is not true. You will never want to throw a full featured cart bag on your back and lug it around for eighteen holes. Second, there are true benefits of walking the course and carrying your clubs. Check out our post on the Benefits of Using a Golf Carry Bag.
Good luck in your search for the best golf carry bag! We look forward to seeing you out there walking the links!
BGCB