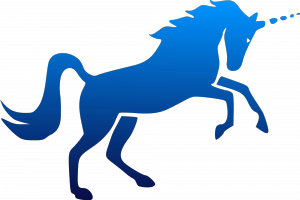 A couple of years back, when we first wrote Part 1 of this blog, we claimed that high-quality, single strap golf stand bags were as rare as a blue unicorn. We searched extensively throughout the electronic golf marketplace and discovered that although not quite as rare as the mythical beast, there were not many options.
In the few years since then, some manufacturers have increased their single strap offerings.  For the most part, these options are not exclusively single strap bags (except for some full-featured caddie or staff bags). Instead, some manufacturers are offering their dual strap bags in single strap configurations.  To be candid, that means that the bags are not fully optimized for a single strap.
After looking at a bunch of bags, we found one option that stood out.
Our Top Choice Single Strap Golf Stand Bag:
The Callaway 2020 Hyperlite Zero Single Strap Stand Bag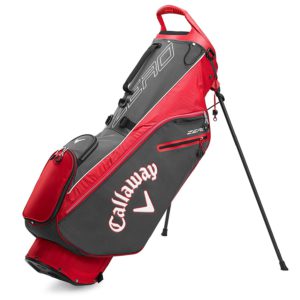 The Callaway 2020 Hyperlite Zero Single Strap Stand Bag is our clear favorite. It matches the closest to our preferred features as described in Part 1 of this blog. The specs on the Hyperlite Zero are as follows:
Golf Carry Bag Weight: The 2020 Hyperlite Zero weighs less than 3 lbs.  Less weight is a much better carry for a one strap bag.
Getting Clubs In and Out of the Bag: The bag has a 4-way opening with full-length dividers, which is within our preferred specs.
Ease of Carrying the Bag: The single-strap system has upgraded strap padding for a comfortable carry.  The bag also comes with a large hip pad for further comfort.  Lastly, the bag has both a spine handle as well as an integrated top handle.
Storage/Pockets:  The Hyperlite Zero comes with seven pockets including:
Full-length apparel pocket

Water-resistant velour-lined valuables pocket

Individual cell phone sleeve

Bottom ball pocket

Tee pocket

Accessory pockets
Also, the bag has a towel loop and umbrella holder.
Stability of the Bag: The bag comes with durable and lightweight carbon fiber legs with enlarged "feet." 
Extras: At the time of writing, Callaway's 2020 Hyperlite Zero offers five color combinations.
A small extra (that we like) is that the zippers for the bag are over-sized.
Value: The bag has an MSRP of $249.99. The high price is primarily due to the very low weight of this high-quality bag.
Buy a Top-Rated Single Strap Golf Stand Bag, Today!
Click below for the 2020 model!